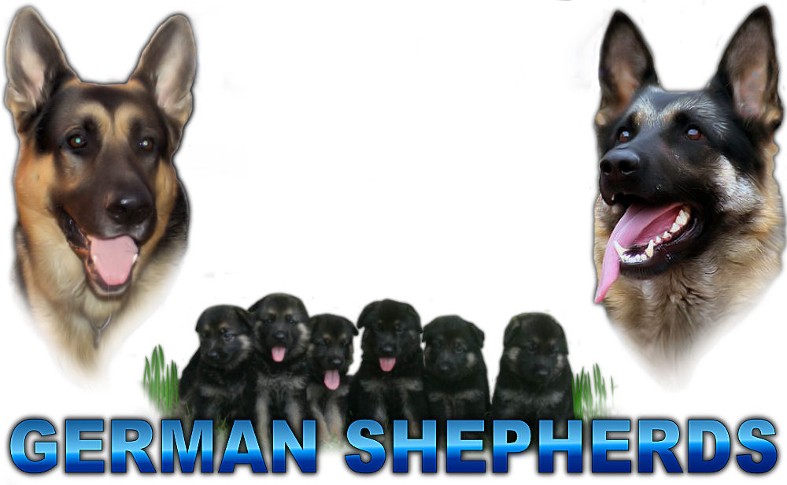 German Shepherd puppies in North Carolina
We are German shepherd breeders located in Bath, North Carolina. Our home and German Shepherd kennels reside on the waterfront of Pamlico Sound, where the dogs have plenty of fresh air. We are GSD breeders who have our German shepherd dogs in kennels inside our home. Our German shepherd puppies are raised inside our home and handled daily from birth to ensure good socialization and imprinting. The puppies from our breeding program are suitable for Schutzhund, agility, protection, police duty or as family pets. Our Testimonials page has many notes from happy puppy clients.

We breed large traditional AKC registered German shepherds from Schutzhund titled GSD; we have imported our German shepherd male and German Shepherd females directly from Slovakia. All of our dogs are registered with the SUCHNO (Slovakian) registry as well as with the AKC. Our German Shepherd puppies come from big boned, old style, straight backed, Schutzhund titled, imported Slovakian and Czech German shepherds which have superior drive and are pronounced in temperament. Our Czech Slovakian German shepherds male and females were imported directly from Czech German shepherd breeders, in our efforts to breed superior German shepherd puppies for sale. We purchase only German shepherds with highly rated, X-rayed, hips and elbows. All of our breeding German shepherds are certified DM free. You will not find a more conscientious and honest breeder of German shepherd puppies for sale.

We are so confident in the quality of our German shepherd puppies that we offer a full health guarantee. Our breeding male and female German shepherds have been X rayed for hips and elbows to ensure that their structure is sound. Their hips and elbows are OFA certified; this enables us to give such a guarantee. We are one of the few German shepherd breeders who will refund a puppy deposit, no questions asked. Most German shepherd breeders state that your deposit is non refundable. Those who have the earliest deposits on future litters are first to choose from the German shepherd puppies available.. At 4 week of age we send each of the people on our deposit list three videos a week of the puppies, to help them decide which puppy they will want.