HOME: 252-964-2514
CELL: 636-295-0864
330 Clark Rd.
Bath, North Carolina, 27808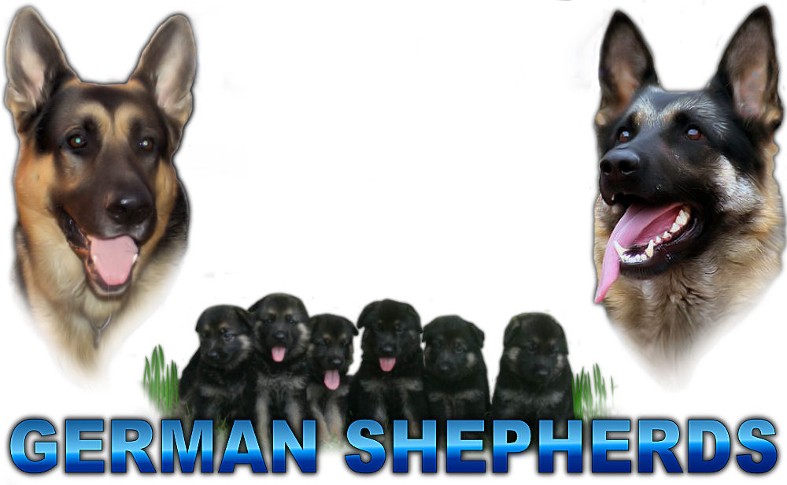 Welcome to Vom Weiland breeder of German Shepherd puppies in North Carolina
We are German shepherd breeders located in Bath, North Carolina. Our home and German Shepherd kennels reside on the waterfront of Pamlico Sound, where the dogs have plenty of fresh air and a variety of birds, crabs, and boats to keep them occupied. We are GSD breeders who have our German shepherd dogs in kennels inside our home. Our German shepherd puppies are raised inside our home and handled daily from birth to ensure good socialization and imprinting. The puppies from our breeding program are suitable for Schutzhund, agility, protection, police duty or as family pets. Our Testimonials page has many notes from happy puppy clients.

We breed large traditional AKC registered German shepherds from Schutzhund titled GSD; we have imported our German shepherd male and females directly from Slovakia. All of our dogs are registered with the SUCHNO (Slovakian) registry as well as with the AKC. Our German Shepherd puppies come from big boned, old style, straight backed, Schutzhund titled, imported Slovakian and Czech German shepherds which have superior drive and are pronounced in temperament. Our Czech Slovakian German shepherds male and females were imported directly from Czech German shepherd breeders, in our efforts to breed superior German shepherd puppies for sale. We purchase only German shepherds with highly rated, X-rayed, hips and elbows. You will not find a more conscientious and honest breeder of German shepherd puppies for sale.

We are so confident in the quality of our German shepherd puppies that we offer a full health guarantee. Our breeding male and female German shepherds have been X rayed for hips and elbows to ensure that their structure is sound. Their hips and elbows are OFA certified; this enables us to give such a guarantee. We are one of the few German shepherd breeders who will refund a puppy deposit, no questions asked. Most German shepherd breeders state that your deposit is non refundable.
We are currently expecting two very large litters of German shepherd puppies, which will arrive around April 18 and April 25. The pregnancies have been confirmed by x ray. Click to see the German shepherd females who are pregnant. We invite you to call 252 964-2514 to ask about either of the litters of German shepherd puppies and to inquire about submitting a refundable $200.00 deposit to be on our wait list for both of the litters. We have discounted the puppies, because there will be so many puppies; we are primarily interested in finding great homes. We are asking $1,200 for any of the puppies.

Our male German shepherd stud dog, Alan Schrom (IPO 3 BH AD CGC), is the son of a black German shepherd dog, Eurosport's Anouk-Lar Leomegy Sch2, a breeder of superior GSD. We researched many Czech German shepherds for sale before finding him. Our German shepherd stud service is only available to German shepherd females of merit. We do have frozen semen of Alan Schrom available on a very limited basis.

Vom Weiland believes that the main foundation of a GSD breeding program lies in the females. Accordingly, as responsible German shepherd breeders, we have searched for the highest quality female German shepherd dogs available from top quality Slovakian and Czech German shepherd breeders. Our foundation German shepherd females are of substantial merit and were selected to be strong, large boned GSD, and possess an excellent temperament to produce extremely high quality sound GSD puppies. Our German shepherd females also have world class genetics and are selectively matched with the German shepherd male's genes. We have tried to choose breeding females who represent the best of Czech Slovak German shepherds.

Our female German shepherd dog is a Schutzhund 2, V (Excellent) rated black and tan, Ava Malabig (SCH2 BH AD KKL1 CGC) She is the daughter of a black German shepherd dog, Eurosport's Erri v Blatenskeho zamku. Erri is one of the highest ranked German shepherds, having won or placed in multiple national and international trials and twice competed as a member of world teams. He is a breeder of superior GSD puppies who have excelled in Schutzhund. The mating of Ava and Alan Schrom, also a son of a black German shepherd dog, should produce 25% black German shepherd puppies. She was bred to our male German shepherd Alan Schrom.; puppies are due April 25, 2014

Our second breeding female is an outstanding solid black German shepherd, Cira Hurkak (SVV1 KKL2), a daughter of a classic world class stud dog, Tyson von der Schiffslache. Tyson was 3 X BSP (Bundessiegerprufing and 3X WUSV (World trials competitor). See

other videos of her famous father

. We imported this German shepherd female directly from EurosportK9 in Slovakia. When Alan Schrom is mated to our all black German shepherd, Cira Hurkak (SVV1 KKL2), they should produce 50% black German shepherd puppies and 50% dark pigmented bicolor and black and tan German shepherd pups.

Our youngest breeding female is Alwa z Eurosportu, (CGC) also directly imported from Slovakia. She can be expected to bring red and gold tones to her black and tan puppies. She has been bred to Alan Schrom with a litter expected April 18, 2014.

Our GSD breeding program consistently produces athletic, smart German shepherd puppies to excel in Schutzhund, or to make stable dependable family pets who will guard the home. As ethical German shepherd breeders in NC, we provide a comprehensive hip and elbow guarantee for each of our German shepherd puppies for sale from our kennels.

Compare the prices that other German shepherd breeders in NC and elsewhere charge for comparable quality German shepherd puppies. We keep our prices of our German shepherd pups low, because we want to ensure that we sell to good homes. We invite you to phone us, 252 964-2514, if you have a good home for one of our NC German shepherd puppies, and arrange to mail a deposit on a German shepherd puppy from one of the two litters of German shepherd puppies that will be born .in April, 2014.